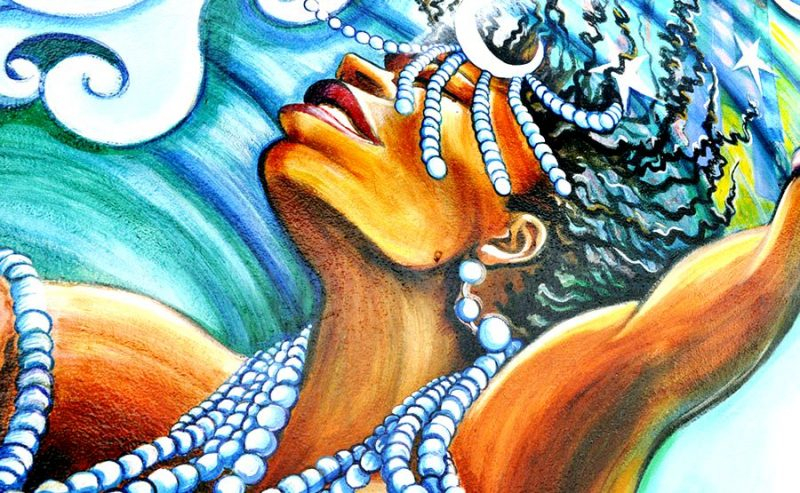 We Come From Mermaids: African Diaspora and Water (Pool Workshop)
with Chandrika Francis
$1000
Thursday, December 7th:5-8pm
Who is this workshop is for: Black folks of all genders and swim levels
Maximum number of Students: 15
Pool Description: Heated Indoor Full size pool. Pool space accesible through stairs or elevator, with 4-5 steps with railing to enter water. 
Bring what you learned from Part 1 of We Come From Mermaids to the water! This is an embodied journey into African diasporic aquatic traditions!  Gain swim skills while learning more about the ways our ancestors engaged with water for resistance and joy during slavery times and the middle passage, and the multitude of rich aquatic traditions in Atlantic African cultures pre European contact.  Through games, water meditation, songs, and other aquatic activities we will tap into the joy, liberation, resistance, and wisdom that connects us to our ancestors.  This space is geared towards beginner to advanced swimmers (to fully participate you can comfortably move around independently in 4ft deep water, and submerge your body in water at least up to your neck.  If you have fear around entering water, you are still completely welcome to join, and engage to the level of your comfort!)
Thanks to the generous sponsorship from New Settlement, this $50 workshop is only $10!
**COVD-19 Precautions: Workshop limited to 15 students, instructor is vaccinated, students are asked to be up to date on covid vaccination or have a negative covid test within 24 hours of class.**
**Please note this workshop is a Black affinity space.  Contact oshunswimschool@gmail.com if you have questions or want to find a different way to be involved!**
Dec 7th:

Dec

7th

,

2023

Thu

from

5:00 - 8:00 pm

Will run
New Settlement Community Center, 1501 Jerome Avenue, Bronx, NY 10452
1501 Jerome Avenue
Bronx, NY 10452 Get directions
Room: Pool (downstairs)